UPDATED OFTEN "HOLD DOWN SHIFT KEY AND RELOAD" FOR THE FRESHEST COPY!
PRO/STOCK DETECTOR'S
USED DEPARTMENT!
SINCE 1968! WE ARE EQUIPPED TO SERVICE WHAT WE SELL!
---
AT PRO/STOCK DETECTORS, WE HAVE THE LARGEST "METAL DETECTOR "BONE YARD" IN THE COUNTRY!
WE MAY HAVE THAT HARD-TO-FIND PART YOU'VE BEEN SEARCHING FOR!
PHONE 1-269-685-1776

---
UPDATED 8/06/2010


---

QUICK LOADING PICTURES SHOWING
THE INSIDE OF MICHIGAN'S TREASURE SHOP!
TOUR THE SHOP, CLICK HERE!
---
---
SEARCH COILS
NEW, USED, CLOSEOUTS!
MANY HARD TO FIND!


---
UNDERSTANDING OUR RATING SYSTEM!
WHAT DOES "SHARP, NEAR MINT, MINT, POOR-- MEAN?
WHAT ARE RE-PACKS AND WHY SHOULD YOU BE CONCERNED?
CLICK HERE!




NOTICE

HI FRIENDS! I HAVEN'T GIVEN UP ON THIS USED DETECTOR WEB- PAGE. BUT, AT THIS TIME OF YEAR IT IS EXTREMELY HARD TO
MAINTAIN. BY THE TIME I GET MY MOST RECENT TRADES


LISTED . . . . THEY ARE ALREADY GONE!

THIS DOESN'T MEAN WE ARE OUT OF USED DETECTORS! DROP ME AN E-MAIL AT

prostock@net-link.net

or phone 269-685-1776

and let me know what you are looking for, and I will let you know what I have!


UPDATED TUESDAY AUGUST 6th 2010
(8/06/2010)


---
KEENE HYDRO-AIR SYSTEM! NEW 2010 MODEL!
Set to go!
This is a state-of-the-art battery powered air supply for up to 2 divers! This unit will handle one diver to 75 feet, or two divers to 35 feet! Great for underwater treasure hunting! Will not interfere with your metal detectors like the metal air tanks do. This unit is so much better than a gas hookah system for many reasons; No flammable liquids to transport, no gas and oil smell, no dangerous exhaust fumes to breath, longer compressor life. Quite (silent) operation! This unit includes : 2 - 30 foot hoses, 2- regulators, 2 body harnesses, reserve tank, float cover, dive flag --- All you need to add is a deep cycle marine battery and you are set to go!
ONLY $1895.00!
---
---
GARRETT GRAND MASTER HUNTER CX III
PRICE $450.00
This unit dates to the mid-90s (1995-96)
THIS DETECTOR IS IN VERY NICE CONDITION,
IT HAS SEEN VERY LITTLE USE AND IS WORKING PERFECT!



Please note:

There is a bruise in the plastic housing but it in no way hurts the way this detector works.



THIS IS THE WORLD'S FIRST TALKING METAL DETECTOR MODEL!





1.

ALL METAL

(NON-MOTION)

DEEP SEEKING MODE
2. DISCRIMINATION: FULL RANGE (Programmable Notch Discrimination)
3. TARGET ID METER
4. THREE USER PROGRAM STORAGE AREAS
5. DEPTH READING
6. AUTOMATIC BATTERY CONDITION REPORT
7. MICROPROCESSOR CONTROLLED
8. NON-MOTION PINPOINT MODE WITH DEPTH READING
9. AUTOMATIC GROUND BALANCE
10. SENSITIVITY AND THRESHOLD ADJUST
11. TOP MOUNTED SPEAKER





This detector will match or surpass many of the current top-of-the-line


detectors on the market today for depth and accuracy!



ALL METAL (Zero discrimination) With many detectors the all metal mode may still have some degree of discrimination present, and items such as small iron is not detectable. The ALL METAL mode on the Master Hunter CXIII will detect ALL METAL!
Great for scanning logs or used lumber before sawing!
(This is the All Metal non-motion mode most detectors do not have this option!)
The All Metal mode: is also great on gold nuggets

With the standard 8- inch crossfire coil, this detector will respond clearly to my tiny 3-grain test nugget!

Also, in the all-metal mode this hot machine will still ID the targets! Just the feature the professional relic hunters look for in a detector
This detector has Treasure Talk!

That's right, it talks!


You can choose between 3 levels of Treasure Talk or turn the talk function off.

There are three custom storage programs A, B, & C
There are three pre-programed modes All Metal, Beach & Coin
Menu Items are:


1.

Sensitivity Setting:

(adjust it high, but if the detector becomes unstable lower it! An unstable detector, with electrical or radio interference, will lose depth! Most treasure hunters who fail to find older coins as well as silver & gold will claim their detector is not sensitive enough. In 98% of those cases their failure is due to a detector that is too sensitive!)




2.

Threshold Setting:

(this is adjusted so that you hear a faint background hum while you are detecting. The word "Threshold" means "the beginning point." Find where the sound starts to be faintly noticed.)




3.

Tone Adjust:

Here is where you can adjust the tone of the accepted targets to best fit your hearing.




4.

Volume Adjust:

Here you can adjust how loud the detector reports a target through the speaker or headphones.




5.

Frequency Adjust:

If you are detecting around other detectors or near radio interference you can find a clean channel to get away from disturbance.




6.

Surface Elimination:

Looking for something that you know is deeper? This detector can be adjusted to ignore eveything in the top 1 to 4 inches of the ground! Very few detectors can do this!




7.

Tone ID:

Enjoy a low tone for iron and foil and a ring-tone for copper & silver!




8.

Audio Boost:

You can run the audio amp. though the headset for working in noisy areas like in construction sites. This is another feature that you will not find on most high-end detectors!




9.

Treasure Talk:

Are you lonely? This detector has three levels of "talk." In "Talk-A" setting the voice tells you the menu options and settings; in "Talk-B" she will talk during the menu and during pinpoint and depth reading; in "Talk-C" she will talk in all operations including target number ID. Or, you can turn treasure talk off.




10.

2 Battery Test Settings:

You can see a battery power level for the recommended Alkaline C-cells or read the weaker rechargable nicads which are optional and not included with this auction.




11.

VCO:

There are more menu options in the all metal mode! VCO is a changing pitch in the audio when pin-pointing!






---
LISTEN FOLKS;

THIS IS AN AMAZING AND VERY RARE DETECTOR! YOU DON'T DECIDE TO JUST GO OUT AND BUY ONE OF THESE WHEN YOU WANT ONE! THEY ARE RARE AND ARE NOT OFFERED FOR SALE VERY OFTEN!



INCLUDES:
8 INCH ALL-PURPOSE COIL & COIL-COVER,
REMOVABLE ARM REST


---

Imagine a detector that tells you
what it is, how deep it is, and exactly where it is!





This detector is very strong with good, clean, crisp, signals even on the deepest targets!



USES 6 C-Cell Batteries and gets great battery life!

THIS IS ALL THE DETECTOR YOU WILL
EVER NEED!
---
FISHER CZ-20 WATERPROOF METAL DETECTOR

This is one of the great CZ-20s. This customer had a sticking pin-point switch and the owner didn't want to send it to Fisher and have it changed to a CZ-21. I located the manufacture of the original pin-point switch and then I replaced it for him. It was a lot of work and the switch was big bucks! No, I don't want to do it again! This detector works great and it was used in the water up to the day I got it (7/9/10) The owner is getting older and has trouble sweeping the large coil for hours like he used to.
This unit is a powerful underwater detector! The pin-point switch is waterproof but it is not pre-loaded to compensate for deep water pressure. I would like to see it go to a shallow water hunter.
TONE ID
PIN-POINT
10-1/2 SEARCH COIL
SEARCH COIL COVER
INCLUDES HARD CASE
$675.00

---
---
FISHER 1280-X WATERPROOF METAL DETECTOR

This is a nice detector and was used in the water up to recently and it works fine. It comes with a Fisher hardcase and owners manual. It is an early model with the slotted coil and gray plastic arm cup and thinner battery door. It works fine but I am selling it as is.
ONLY $250.00

THIS UNIT IS SALE PENDING. . . SORRY



PRO/STOCK METAL DETECTORS




A FULL SERVICE, MULTI-LINE, STORE FRONT,




MICHIGAN DEALER




OFFERS THIS:

BEAUTIFUL 1999
WHITES SURFMASTER PI PLUS
SUPER CLEAN ONLY $525.00

Whites Surfmaster P.I. Plus
I have been a metal dealer since the late
1960's and I can assure you that
this detector is working correctly
in every way.

You are not bidding on a detector that
is being sold by an estate sale, or worse yet a pawn shop, or by someone who cannot
know if the detector is working right!
This is our only business!

This is a waterproof detector that can be used on the beach, at the ghost town, park, school, or even under the surf!

Because this machine is Pulse Induction technology it works equally well in fresh or salt water. However the P.I. detectors are preferred for salt water hunting or detecting in high mineral soil conditions.

((((((PLEASE NOTE THE FOLLOWING))))))


Pulse detectors are able to detect much deeper than the V.L.F. single frequency or multi-frequency detectors but they have one drawback. The P.I. detectors are attracted to small liner iron items like hair pins, nails, sparkler wires. The reason these detectors are considered salt water detectors is because these liner-shaped iron items are dissolved in salt and gone in short order! These items can be a problem in fresh water for decades--- so beware!



If you are willing to do some work, many of the Great Lake beaches seem hunted out, when the truth is the detectors are blinded by the high levels of magnetite or black sand and much of the gold is still there! A good P.I. machine will punch through those bad iron minerals and find the deep gold and silver! The catch is, you will have to dig those small iron targets!



WATER PROOF

to 100 feet deep! It is capable of extreme detection on coins and jewelry in salt water and highly mineralized ground.

In the past, P.I. metal detectors had to be swept very slowly for maximum depth and they had very poor sensitivity to copper-nickel coins and gold. They had manual tuning which was critical to adjust and prone to drift. Most used a V.C.O. or "Fire Siren" type audio tone which changed from a low growl to a squeal when a target was detected.


THE SURFMASTER P.I. PLUS IS DIFFERENT!

It is the result of over nine years of research and development. White's goal was to develop a Pulse Induction metal detector that could match the sweep speed, sensitivity and ease of use of a V.L.F. without being blinded by wet salt or high iron content.

The Surfmaster P.I. may be swept either quickly or slowly with virtually no loss in sensitivity. It is designed to be more sensitive to gold and copper-nickel alloys than to other metals. It features fully automatic tuning (S.A.T.) and the audio tone increases in volume rather than pitch when a target is detected.





Instructions right on the case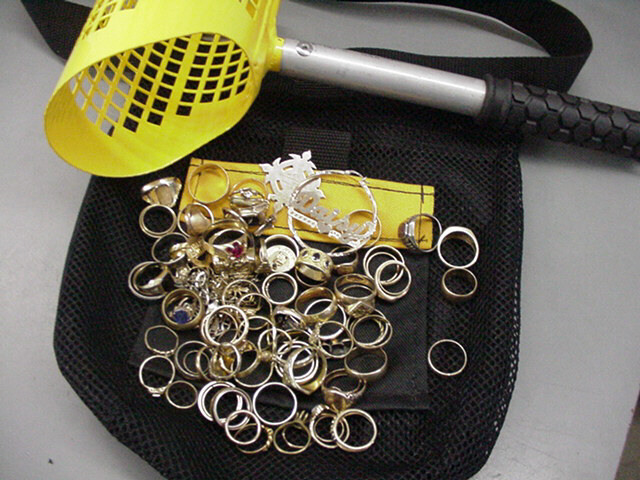 Why would anyone want to dig around in some
smelly old swimming hole?
The stuff pictured here is not included in this sale,
go and find your own! This is the machine to do it!

---
This just in 8/06/10 Whites DFX E-Series 2001




Phone 269- 685-

1776



---
E-MAIL ME AND I'LL SEND YOU A PHOTO OF THE MACHINE THAT YOU WANT TO SEE.
See a detector that you would like to own?
Phone or e-mail us to be sure unit is available.
E-MAIL AL HOLDEN 'pro stock'
1-269-685-1776
We take Mastercard, Visa, Discover, or
you can use Pay-Pal!
SHIPPING INTERNATIONALLY USING
THE U.S.POSTAL SERVICE, PAYMENTS THROUGH WESTERN UNION OR PAY-PAL

---
THIS IS A REAL STORE
WITH REAL STORE HOURS!
MONDAY, TUESDAY, THURSDAY, FRIDAY 10am-6pm
SATURDAY 10-am-4pm
CLOSED WEDNESDAY & SUNDAY
WE DO SHIP NATION WIDE. . . HOWEVER,
IF YOU ARE WITHIN DRIVING
DISTANCE. . .
WHY NOT CHECK OUT THE COOLEST LITTLE TREASURE SHOP IN THE MIDWEST?

---
WE HAVE MANY OTHER MACHINES ON THE WAY SO BOOKMARK THIS SITE, AND KEEP CHECKING BACK!
E-MAIL AL HOLDEN 'pro stock'
MORE TRADE-INS COME IN ALMOST EVERY DAY! GIVE US A CALL AT 1-269-685-1776
RETURN TO PRO/STOCK DETECTORS
RETURN TO THE MANY FACES OF TREASURE HUNTING!
Whites Metal Detectors , XLT, DFX, MXT, Prizm, Beach Hunter ID, Minelab, Garrett, Fisher, Bounty Hunter, Rock Tumblers, Tesoro,