Pin Pointers

In Stock

Call to order!


PN: 1142200.....MSRP: $169.95 Pro Stock Sale Price $145.00!!

Pro-Pointer AT Z-Lynk Unique Features:
One-Press Syncing to Garrett Z-Lynk wireless receivers.
Wireless Convenience: Hear both detector and pinpointer alarms in your headphones, even in noisy environments (beach, high winds, congested urban areas, organized hunts).
Fully waterproof to 20 feet with orange color for added visibility underwater.
Maximum Sensitivity for improved detection of nuggets and other small targets. Choose from three Sensitivity levels.
Fast Retune: Quick button press instantly tunes out environment or narrows detection field for precise pinpointing of larger targets. Retuning allows user to quickly:

Shrink detection field to precisely pinpoint large targets
Tune out mineralized ground, wet beach sand, etc.
Help gauge target size/distance
Help identify edges of large target
Pinpoint multiple targets versus one large target signal

Lost Pro-Pointer Alarm: After 5 minutes with no button presses, the pinpointer emits periodic warning chirps.
Automatic power off after 60 minutes of warning chirps; saves batteries.
Simple, single-button operation for Power, Retune, Sensitivity adjustment, and Stealth Mode.
Ruler in Inches and Centimeters molded into side of pinpointer to judge target depth.
Lanyard Attachment Loop molded into side of pinpointer.
New power button is easy to operate even with gloves.
LIST PRICE $169.00

SALE PRICE

ONLY

$145.00



<>

---

MINELAB
PRO-FIND 15
Strong Rugged design that is splash-proof, bright color, audio tone response, lost alarm, holster included.
List Price $129.00
SALE
$ 99.00



MINELAB


PRO-FIND 35










FERROUS IRON ID

AUDIO TONE **** VIBRATION **** WATERPROOF (10 feet) HOLSTER
LIST PRICE $168.00

SALE

$129.00

---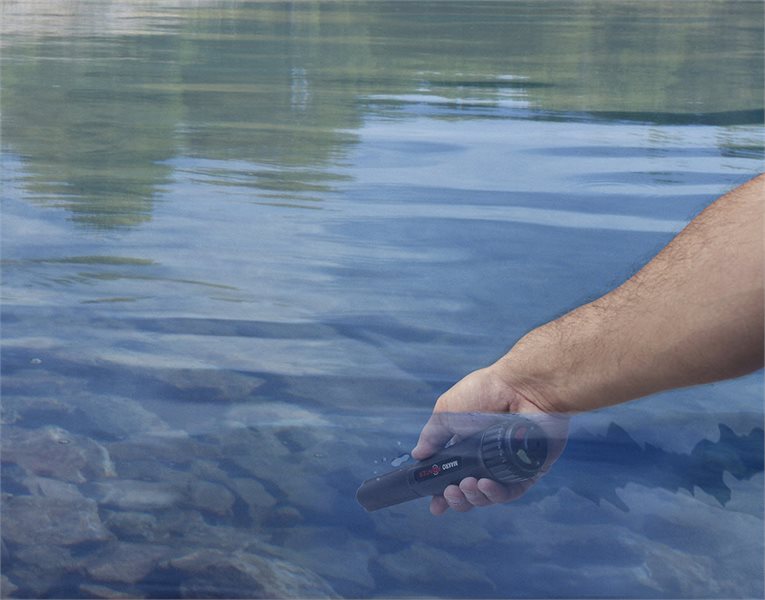 MAKRO PIN-POINTER!
This is very nice pin-pointer with a solid
strong audio & pulse vibration! It comes with a nice hard case, holster with belt, tip protectors, light, 4-level sensitivity, interference block, and it is rated with a European "Ingress Protection" rating of IP-67 (which means it is waterproof for short term service up to 3 feet) This is for short duration and not diving,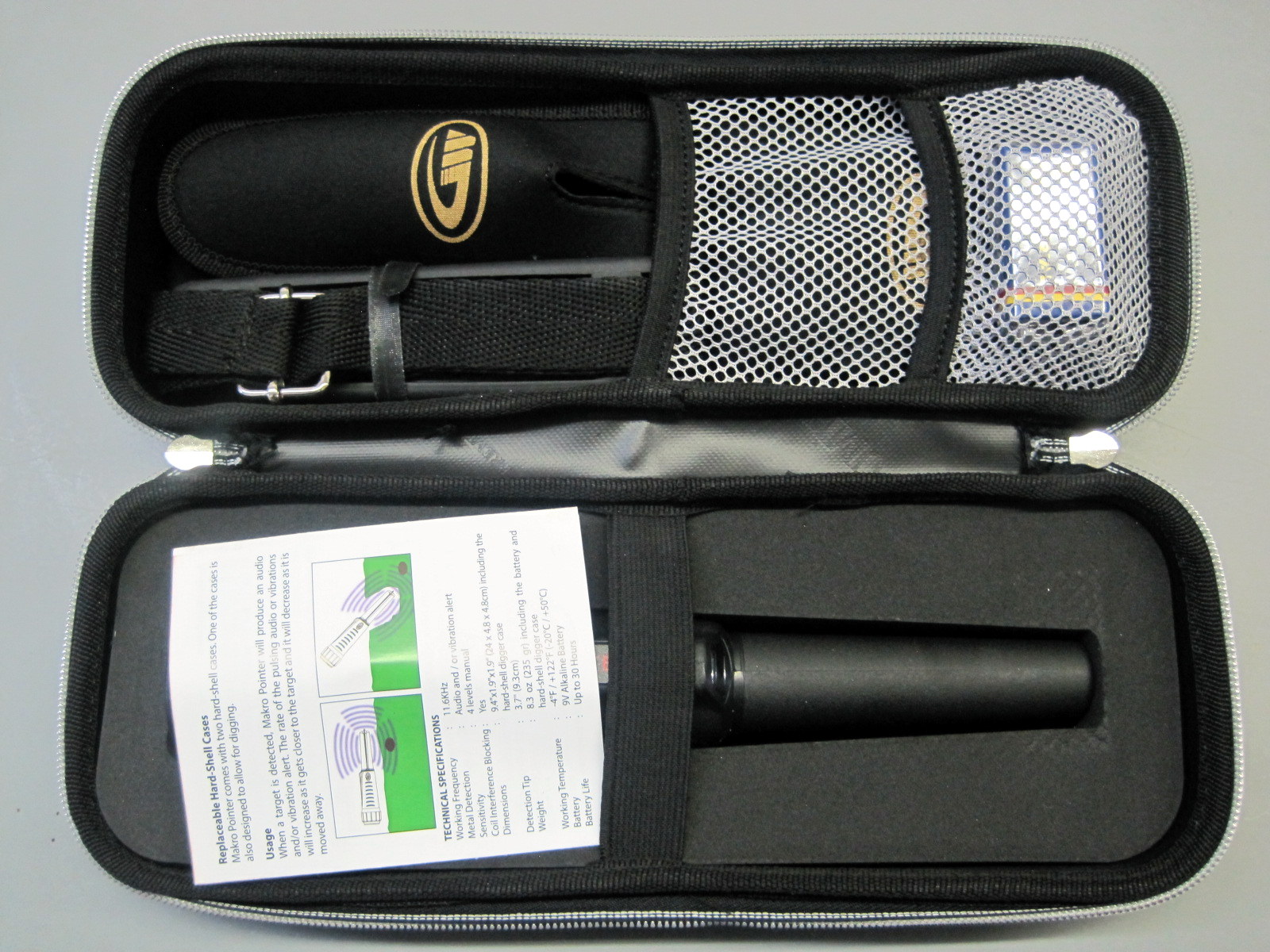 11.6 kHz




Audio & Vibration (both or either)




4 levels sensitivity




Coil Interference Block Technology




Hard Shell Case




Weight 8.3 OZ (total weight in the case)




Belt Holster with belt




2 year warranty





The Makro Pin pointer is an imported instrument of the highest quality. This item is a product of Turkey and it should have a huge impact on the pin-pointer market! It feels great, sounds great, and is loaded with features not found on other treasure hunting pinpointers!
IN STOCK MSRP $149.95 Sale $139.00


---
---
Whites
NEW WATERPROOF TRX
The Bullseye TRX's area of detection is concentrated around the tip, making it easy to zero in on the target. This feature along with the ones below makes the Bullseye TRX the most complete pinpointer on the market.


WATERPROOF TO 10 FEET



12 kHz operating frequency, doesn't interfere with any other metal detector
Audio and/or Vibrate Alert
Automatic Ground Balance with Tracking
Automatic Power Off
Dual Battery Operation (2-AA or 1-9V)
Full Two-year Warranty
Holster (up to 3" belt)
Lanyard Attachment Loop on TRX and Holster
LED Light
Lost Pinpointer Alarm
Overload Indicator
Replaceable Shell
Rugged, Weatherproof Design
Ruler, with Inch Markings
Simple, One-Button Operation

Target Ratcheting
SORRY SOLD OUT **** NO LONGER AVAILABLE
---
GARRETT PRO-POINTER AT






The

Pro-Pointer AT: provides all terrain versatility for locating and pinpointing metallic targets. It is environmentally protected from the elements and is fully submersible to a maximum depth of 20 feet.


Pro-Pointer AT Unique Features:

Fully waterproof: to 20 feet with orange color for added visibility underwater.

Maximum Sensitivity: for detection of nuggets and small targets, three sensitivity levels.

Fast Retune: Quick button press instantly narrows detection field for precise pinpointing of larger targets.

Lost Pro-Pointer Alarm: After 5 minutes with no button presses, the pinpointer emits periodic warning chirps.

Automatic power off: after 60 minutes of warning chirps; saves batteries.

Simple, single-button operation: Power, Retune, Sensitivity adjustment, and Stealth Mode.

Lanyard Attachment Loop: molded into side of pinpointer.

New power button: is easy to operate even with gloves.
In Stock List Price

$ 149.95

Sale $135.00
---
Garrett

'Pro Pointer II Our Best Seller!






<>With a new lost pinpointer alarm, increased durability and sensitivity, Garrett's new Pro-Pointer II has everything you've come to trust from the original… and more!

<>

Lost Pinpointer Alarm:
After 5 minutes of being ON without a button press, the Pro-Pointer II will begin emitting progressively faster warning chirps for 60 minutes.


Auto-Off Feature:
After one hour of warning chirps, the Pro-Pointer II will power off automatically.


Lanyard Attachment Clip:
Use to attach the Pro-Pointer II to your belt, digging pouch or your detector.


<>Increased Durability and Sensitivity & Faster Retuning Capability
In Stock List Price

$ 129.95

Sale Price $119.00



---
MINELAB "PRO-FIND 15"
Minelab
"Pro-Find 25"

Proportional audio/vibration response

For greater accuracy the PRO-FIND 25 indicates the depth of buried targets
with a proportional vibration and audio response. As the pinpointer probe
gets closer to the target, the intensity of vibration and audio increases.

Narrow down the exact location of targets with the PRO-FIND 25's
adjustable sensitivity. This can be increased to locate deep targets or
decreased to precisely locate small targets.
Two mode operation
Select from two modes – Audio & Vibrate or Vibrate Only for silent searching.

Durable water resistant construction
Submersible probe end. The whole pinpointer can be washed under running water.

Probe side sensitivity
Probe side detection area (360°) allows targets to easily be located in the walls of the hole.
Auto power off
To save battery life, the PRO-FIND 25 switches off after eight minutes of inactivity.

LED flash light, Holster included
In Stock List Price $ 195.95

Sale Price $169.00
---
We also carry a selection of Sun Ray Inline Probes



Ace 150, Ace 250, Ace 350, AT Gold, AT Pro, ATX, Automatic Ground Cancel, Automatic Ground Erase, Automatic Graound Trac, Gold Pan, Sluice Box, Keene, Gold Wheel, DD coil, Whites, Fisher, F-75, Pro Pointer, Beach Digger, Beach Scoop, Aquanaut, 1280 X, Fisher F-2, Gemini III, Fisher Gold Bug, Fisher F4, Fisher F5, Fisher F70, Fisher CZ-21, White's Spectrum, White's Eagle, White's V3I, White's VX3, White's MXT, White's MXT PRO, Whites V3, White's Coinmaster, Whites Coinmaster Pro, Whites Coinmaster GT, Whites MX5, White's Goldmaster, White's GMT, Whites GMZ, White's TDI, White's Pulse Scan, White's M6, White's TM 808, White's Treasuremaster, White's Surfmaster, Whites Surfmaster Dual Field, White's Surfmaster PI, Whites BeachHunter ID, White's Sierra Madre, Whites ULA-3, White's PRL-1, White's PCL 600, Whites SpectraScan Handheld, Weapons Detector, Pin Pointer, Whites Bullseye, Eclipse Search Coil, Shooter Coil, Nuggett Shooter, Super 12 coil, D2 coil, Prostar Headphone, Pro Star Headphone, Starlite Headphones, Metal Detector, Metal Detector Hardcase, Carry Bag, Detector, Garrett Pro Pointer, Garrett Propointer, Teknetics Metal Detector, Teknetics Omega, Omega 8000, Teknetics Gamma, Teknetics Gamma 6000, Delta 4000, Alpha 2000, Teknetics T2, Teknetics G-2 G2, VCO, Pinpoint, Gold Pick, Lesche Knife, Lesche Ground Shark, Relic Shovel, Gold Pick, Rock Pick, Weather Cover, Coil Cover, Search Coils, Used Metal Detector, Used Metal Detectors, CoPlaner Search Coil, Biaxial Search Coil, Concentric Search Coil, Spider Coil, Dual Field Coil, Mono Aussie Coil, Pulse, 9.5 Coil , Goldmax, Blue Max, Prizm, Battery Holder, Battery Clip, Rechargable Battery, Nicad, NiCad Battery, Battery Charger, NiMH Battery, Battery Pack, Sawtooth Digger, Sand Scoop, Beach Scoop, Water Scoop, Mesh Classifier, Coin Probe, Treasure Apron, Aluminum Sand Scoop, Plastic Sand Scoop, Stainless Sand Scoop, XP Metal Detectors, Deus Metal Detector , Wireless Metal Detector, Treasure Maps, Treasure Books, Buried Treasure, Gold and Silver, Coin Hunting, Relic Hunting, Ghost Towns, Tesoro Metal Detectors, Tesoro Tejon, Tesoro DeLeon, Tesoro Golden U-Max, U-Max, Tesoro Golden Saber, Tesoro Cortes, Tesoro Vaquero, Tesoro Outlaw, Tesoro Cibola, Tesoro Tiger Shark, Tesoro Sand Shark, Tesoro Lobo, Tesoro Lobo Super Traq, Tesoro Silver Saber, Tesoro Silver U-max, Tesoro Compadre, Tesoro Amigo, SunSpot Scoop, Sun Spot Scoop, Bounty Hunter Metal Detectors, Bounty Hunter Junior, VLF, VLF 2.1, Gold Digger, Fast Tracker, Tracker IV, Commando, Quick Silver, Lone Star, Quick Draw II, Rock Tumblers, Lortone Tumbler, Model 3A, 33B, Falcon MD20 Nugget Hunter, Falcon Prospecting Detector, Keene Gold Pans, Keene Spiral Concentrator Wheel, Blue Bowl, Gold Concentrating Bowl, Keene Classifying Sieves, Keene Hydro Air, Keene HydroAir, Battery Powered Diving, Hookah Diving, Gold Magnet, Gold Bottles, Gold Snifter Bottle, Pocket Gold Scale, Detector Pro Pirate, Detector Pro Pirate Pro, Gray Ghost Headphones, Black Widow Headphones, Gray Ghost Underwater, Jolly Rogers, Rattler, Nugget Buster, Minelab Metal Detectors, Minelab CTX 3030, Minelab E-Trac, Minelab Excalibur II, Excalibur 800. Excalibur 1000, Sovereign, Sovereign GT , X-Terra 305, X-Terra 505, X-Terra 705, X-Terra 705 Gold Pack, Explorer XS, Explorer SE Pro, Eureka Gold, GPX 5000, Vflex, BBS, FBS, VLF, MPS, 3&1 digger, Blue Badger, Sierra Mesh Apron, Whites TRX pinpointer, Teknetics Eurotek, Teknetics Eurotek Pro, Used Metal Detector, Rock Tools, Gold Pick, Rock Pick, Detector Bag, Padded Detector Bag, Rock Hammer, Rock Chisel, Estwing Geo Pick Keene Crevice Sucker, Bulb Snifter, Gad Pry Bar, Pick Mattock, SunRay, Sun Ray, Sun Ray Pro Headphones, Sun Ray Target Probe, Sun Ray In-Line Probe, Western and Eastern Treasures Magazine, Lost Treasure Magazine.