This Month ...

Scott Hendrickson tells me that we are going to enjoy hearing from two of our favorite bottle collectors from the north country. Elmer Ogg, from Muskegon, and Steve DeBoode from Jenison, will be making their way all the way down to Kalamazoo to put on an antique bottle presentation. Yes, it is a long trip on a cold November night. At today's gas prices, every trip is long! So it is our hope that we will have a good turnout.

I only have one 'Steve DeBoode' story to share. About four years ago, in the late summer, a man came into my shop door carrying a wire milk crate full of old dairy bottles. I had never seen this man before and he confessed that he didn't know me, as part of his introduction.

"I'm changing jobs and I have to move out of the state. I'm not going to have room to take these bottles with me and I can't bring myself to throw them away. I was told that you are a bottle collector. Would you like to have them?"

Now isn't that so much easier than digging them? I don't know why, but I can't help but think that even just this much of the story is amazing. To this day, I wonder who told this man that I collect antique bottles and why didn't that person take them?

Of course, I took the crate full of dairy bottles and I thanked him for them. Without saying another word he spun around and walked back to his truck. I carried the crate into my back room to store it with my tons of pack-rat junk.

I love antique bottles, but for some reason I have never been a big fan of dairy bottles. I guess it's because they seem to be so much a part of my era. My grandfather's first job in Michigan was working for a dairy or creamery near Detroit making cottage cheese. He moved into the Otsego area and started his own business, the Michigan Cottage Cheese Company. He chose Otsego because there was an abundance of dairy farms.

As his business grew, he had to look for more sources of milk. That is when he purchased a dairy in Albion, Michigan. I asked my grandmother, who is 94, if she could remember the name of the dairy. She told me that she thought it was Albion Dairy Co-Op, but she wasn't sure. I went online to an Albion History web site by Frank Passic where he lists the following Albion dairies: Coldpack, Gem Dairy, Gold Top Dairy, Haven Hills Farm, Hearts Desire Dairy, Hicks Dairy, Home Dairy, Humphrey's Dairy, Kreger Dairy, Riverside Dairy, Starr Commonwealth for Boys, Sun Dawn Farm, and Sweeney. And he even said that there were more!

Since doing my search of Albion, Michigan dairies, I have learned from my mother that it was the Albion Dairy Co-Op of Albion, Indiana. I have no idea how many dairies they had down there.

I have a few dairy bottles that I am very fond of.. My stepfather, Howard Norton, gave me a perfect Holland's Dairy bottle which I don't think it ever had milk in it --- it is that perfect! It is a half- pint painted-label bottle that claims to be "Milk that is Milk." It pictures a little fellow delivering milk with a horse- drawn dairy wagon.

Howard used to work a Holland's dairy route in Otsego in the Mid-1940's. Because of the war, the old Divco milk truck could not be replaced when the engine gave out. So, they removed everything ahead of the firewall and rigged up a swivel axle and two wagon shafts to harness a horse to. Howard told me that as soon as the horse left the dairy he was on auto-pilot! He knew every stop and every turn without any help from the delivery driver.
Carl Holland, the owner of Holland's dairy, is still living in Otsego and is a very good friend of mine.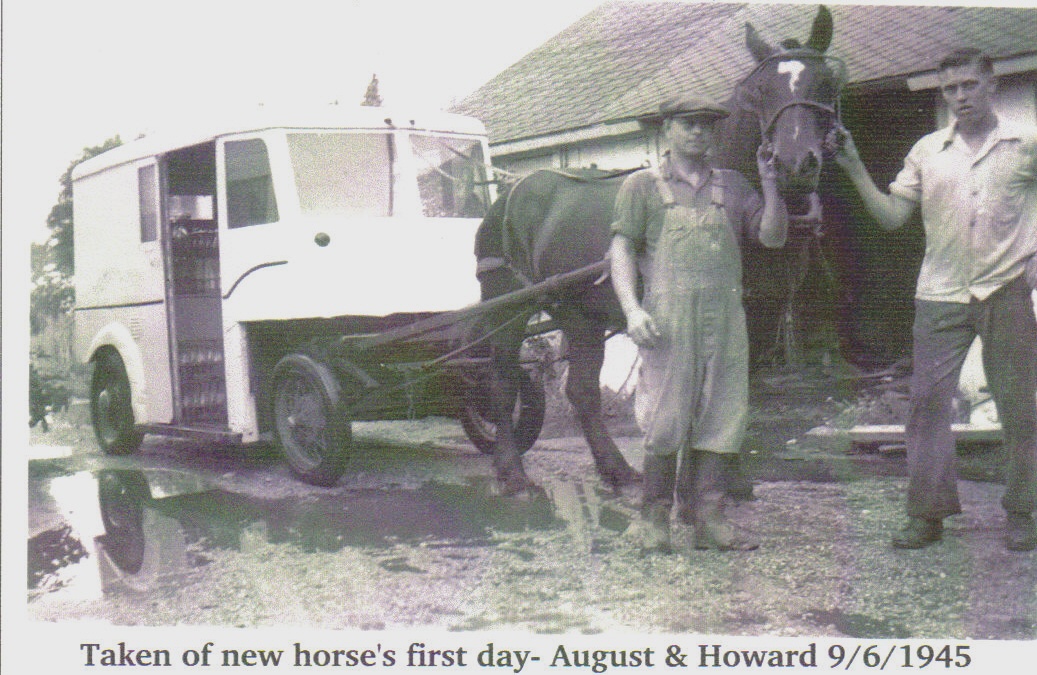 On the left is August Deurloo, and on the right is my step father, Howard Norton. Notice the wagon is loaded with fresh bottles of milk with cream on the top. As a boy I remember laying in bed, early in the morning, and I could hear the tinkling sounds of the bottles when we were getting our milk delivery. We also would get our bread delivered. I loved the smell inside the bread truck. Whatever on earth happened to that America?

Generally, I'm not out there looking for milk bottles. One winter's day, when my business was slow, I grabbed my camera and took some photos of a few of those bottles with my plan of putting them on e-Bay. Most of the bottles were self explanatory because of the labels or embossing. In other words, they had the dairy name, the city and state clearly stated.
That was true for all but one tiny little half-pint bottle where the only embossing was just three letters and three dots. "C.C.B." I knew that there would be only one guy who could help give me the information that I needed about this mystery bottle. That person was Steve DeBoode! Actually, as I think back, it was John Pastor who pointed me to Steve. Regardless, Steve really was a huge help.
I e-mailed Steve and told him what I had, and he told me that he also has one of these bottles in his collection. He went on to say that his C.C.B. bottle is the only one that he has ever seen. From his research, Steve was able to tell me that the dairy was located in Ionia County, and he was sure that the bottle was rare. Armed with that information, I started the auction on e-Bay.
In the title for my auction, I mentioned the key words: C.C.B., Dairy bottle, half-pint, Ionia County, Michigan. The auction was only a couple hours into it's seven-day span when a fellow e-Bayer sent me a message telling me that this wasn't only from Ionia County, but he was able to pin the location down even further by telling me that the small dairy was located at Lake Odessa, MI.
You want to include as many key words in your auction title and auction body as possible. Certain collectors type in key words to do a quick search of e-Bay instead of spending hours looking everywhere. For example, I am interested in stuff from Otsego Michigan. If I type in "Otsego" I will get a big string of auctions and 98% will be from Otsego, New York. If I type in "Otsego MI" that weeds out a lot of stuff that I am not interested in. The eventual auction winner's favorite key search-word was, "Lake Odessa MI"
I was lucky to not have any bids yet, so, I was able to edit my auction page and title to include the important key words "Lake Odessa." This auction didn't get off to a fiery start, but by the time that the last day of the auction had started, the little bottle topped the $100 mark! That evening when the final bid was in, the last bid was around $375!
I have forgotten the name of the dairy's owner, but the dairy's name was his initials and his first name was Charles.
The winning bidder had some very serious competition out there! He told me that it was far more than he would liked to have paid and, like me, he was shocked that the little bottle could be so valuable!
This e-Bay winner was not a bottle collector, but clearly he was bidding against some. Even though he lived here in Michigan, he wanted me to send the bottle to his mother in South Carolina. He made me swear an oath, not to put any type of receipt in the box because he didn't want his mother to know how much he paid for the bottle! C.C.B. was her father and the buyer's grandfather!
I know that many respected people in the antique bottle hobby have thumbed their noses to bottle hunting on e-Bay. While it is true that you can get cheated if you are not careful, you can have a lot of fun as well!